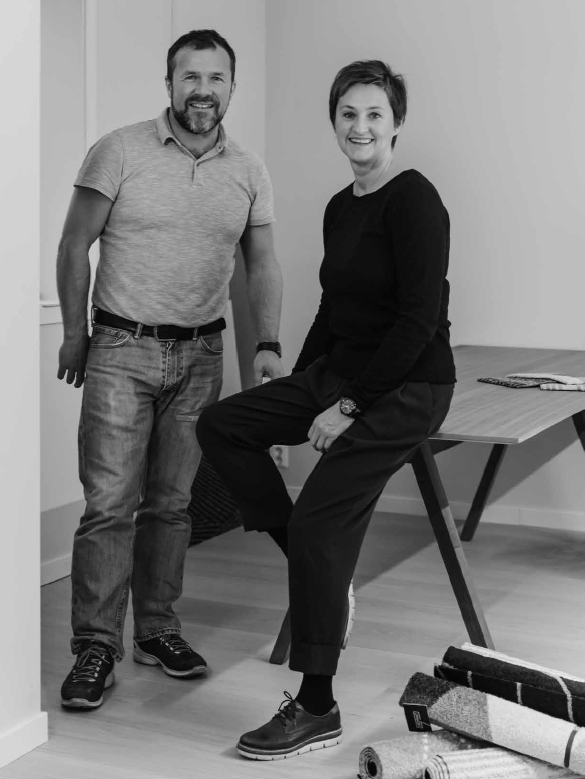 With our know-how, and a bit of healthy madness, we have taken a Norwegian design product out into the world
Our story starts in the exposed and beautiful Northern Norway, surrounded by fjords and mountains … and lots of wet and windy weather. Here, husband and wife Sonja Djønne and Thoralf Lian ran a family business, with special expertise in cleaning and renting industrial mats.
Thoralf had three generations of experience behind him, and extensive know-how of what is required of an effective doormat. Sonja had a great passion for interior design. It was in this convergence between experience and passion that the idea for Heymat was born – a doormat that should be good to come home to, or in Norwegian, to come 'heimatt' to.
We launched our first collection in 2016 and have since developed many collections in close cooperation with some of Norway's best designers, including Kristine Five Melvær and Vera & Kyte.
It is a great pleasure that Heymat has now found its way to shops, buildings and homes all over Norway, as well as in Europe, Asia and the US, and that our products are attracting more and more user groups. It's clearly not only in Northern Norway we prefer to leave our weather on the doormat.

When our success became a fact, it wasn't hard to start investing more. We are constantly on the lookout for new, innovative and sustainable solutions – something Zen carpet tiles are a good example of. Based on our award-winning doormat Sand, we have now developed a new and flexible solution for hallways and entrances.
We decided on our fundamental values at an early stage: High demands of quality, good designs and a firm belief in environmentally-friendly and sustainable products. All buildings deserve a good designer product.